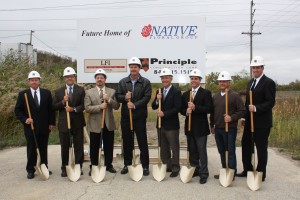 James A. Brucato and Mark E. Augustyn, owners of Principle Construction Corp., are pleased to announce that a 60,000 square foot build-to-suit distribution/warehouse building at 1301 Lombard Road in Lombard, Illinois is under construction.
Principle was selected by property owner, LFI-Location Finders International, to design and construct the facility for Native Wholesale Inc. who is expanding their operations. The 28' clear height building will feature 2,500 square feet of office space with 2,500 square feet of mezzanine, 14 docks with drive-in doors and 15 future dock locations. Principle will also extend Lombard Road by 300 feet to accommodate the new facility.
A groundbreaking took place in Fall of 2013. Pictured are from left to right: Paul Rio of Principle Construction Corp., Bill Loftus of Spaceco, Rick Harris of Harris Architects, Paul Peterson of Native Floral Group, Marty Burke of LFI, James Brucato of Principle Construction Corp., Doug Brucato of Principle Construction Corp., and Mike Long of Principle Construction Corp. Completion is scheduled for May 2014.
Native Floral is a grower, importer and manufacturer of fresh cut flower bouquets for mass market. The company was founded in1992 and has since grown to nine (9) facilities across the US making it the largest manufacturer of fresh cut flower bouquets in the US.
Paul Rio is managing the project and Doug Brucato is the Superintendent for Principle Construction Corp.  Harris Architects is providing architectural services.
Principle Construction Corp. is a leading design/build general contracting firm that has been serving the Chicago Metro, Southern Wisconsin and Northwest Indiana industrial markets since 1999.  Specializing in the design and construction of manufacturing, warehouse and distribution, medical, office, laboratory and food processing facilities, Principle has built a solid reputation for providing unsurpassed service to its clients and the ability to successfully complete even the most complex projects. Additionally, Principle has extensive expertise in expansions and additions, tenant improvements, site evaluation, due diligence and value engineering.  Leading industry publications and professionals continually recognize Principle Construction as one of the field's best and most prestigious design/build firms.