(ROSEMONT, Illinois) – Mark E. Augustyn and James A. Brucato, owners of Principle Construction Corp., are pleased to announce that their firm has completed a 5,149 square foot craft brewery build-out for Blue Nose Brewery at 6119 East Avenue in Hodgkins, IL. The brewery will be housed in a new 12,320 square foot multi-tenant retail building which Principle Construction broke ground on in April of 2014. Bear Real Estate owns the building and Ben's Rental & Sales occupies the remaining portion of the building.
Blue Nose Brewery will create specialty beers in their new 2,000 sf brewing room. The brewing room is complete with new HVAC fresh air supply, exhaust, gas piping and combustion ventilation systems required for the brewing process. A new sanitary waste system featuring trench drains and clean out baskets was added to facilitate the cleaning process of brewing vessels as well as room sanitation requirements. A custom designed, instantaneous hot water supply system was incorporated, such that Blue Nose could continuously have their hot water demands met. Water resistant and easily cleanable finishes were incorporated throughout the space with special emphasis on the Blue Nose "blue" epoxy floor. The fermenting kettles, mash turners and hot liquor tanks will all be visible to the public from the 3,000 SF tasting room via windows and glass overhead doors.
The tasting room features stained concrete floors, reclaimed barn siding on the walls and a custom designed bar. Here up to 204 patrons can be accommodated. Many of whom are firm believers in the wisdom of Benjamin Franklin who said, "Beer is proof that God loves us and wants us to be happy."  Blue Nose Brewery is currently displaying pictures of the construction on its Facebook page at https://www.facebook.com/BlueNoseBrewery.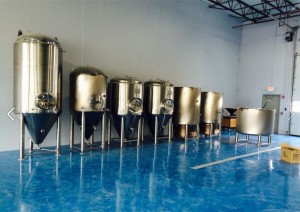 Principle's Ken Lattanzi is serving as Project Manager; Doug Ingram is serving as Superintendent on the build-out and Mark Augustyn is the Principal overseeing the project. Timothy Morgan & Associates is providing architectural services. Construction is scheduled for completion in May, 2015.
"This project was a combination of two of my favorite things, construction and beer; and not necessarily in that order either" said Mark Augustyn. He was also quick to point out that, like Lyndon Johnson, he feels sorry for people who don't drink, because "When they wake up in the morning, that's as good as they're going to feel all day!" We really had a lot of fun helping the "Blue Nose" group take their operation to the next level. I hope this new facility will support their goal of expanding their business while continuing to brew great beers."