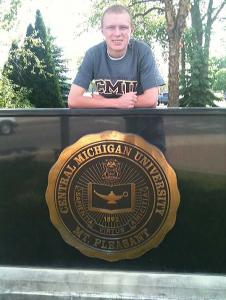 Summer Intern Stephen Augustyn is returning to Principle's accounting department this summer. He is excited about expanding upon his current responsibilities, which include processing accounts payable invoices, reconciling monthly bank statements, collecting waivers from clients, and assisting with all phases of monthly draws. Stephen will continue many of the projects he worked on last summer and is looking forward to delving further into the details of the firm's accounting practices.
Stephen will be a senior at Central Michigan University who is planning on starting his own business when he graduates in May 2016. In addition to working at Principle, he also served as an Honor Caddy at Twin Orchard Country Club in Long Grove, IL.
"We're thrilled to have Stephen return to help us out in the accounting department this summer," said Stephen's supervisor Jamie Molzahn, Accounting Manager at Principle. "With new projects coming in all the time as new construction picks up, we need someone smart and driven on our team."
Outside of work, Stephen is interested in investing in stocks, golfing and hanging out with friends.