By Mark E. Augustyn, Chief Operating Officer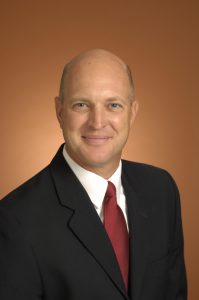 Once upon a time, the idea of design-build construction conjured up images of people in hardhats crowded around a hand-drawn blueprint with one clutching a measuring tape and another yielding a compass. Today, that blueprint would be replaced by an iPad, and each of the people in the picture would know they were being monitored by a live-streaming camera and maybe even a drone.
Construction technology has come a long way from carefully drawn figures and walkie-talkies. Principle Construction Corp. has worked to stay ahead of the curve, implementing new technologies across all of its projects. Through the use of drones, iPads and live-streaming cameras, Principle's superintendents are working more efficiently, communicating better, and keeping the job site safer.
Drones help the executives and superintendents at Principle by taking aerial pictures and videos to show progress during construction. With these flying robots, they can survey the jobsite, inspect structures and keep better safety records. Because a drone can move in and out of many different spaces on the project quickly, it reduces the number of labor-hours spent on crawling in and out of tight spaces to document that each part of the project was built soundly.
In a world where there is an app for everything, iPads are essential for construction superintendents. Over the summer of 2015, Principles superintendents each received an iPad to work with on their jobsites. Applications like Dropbox help superintendents sync images with their phones and computers, helping workers in the field share data and show progress to their clients. Apps like Iannotate allow users to make touch screen markings, draw, highlight emails, create pdf drawings and take pictures for collaboration between owners and contractors on the job site. The technology gives superintendents quick and effective communications with their clients and executives at the Principle office.
Another favorite of clients who wish to see how their projects are going is live-streaming cameras installed on each of Principle's job sites. In addition to allowing clients to see that progress is being made on their building, the camera increases safety on the jobsite by allowing Principle to see if there are any trespassers on the site. They're also tipped off immediately if someone is caught vandalizing the machinery or structure.
In addition to the on-site technologies that Principle is implementing, the team is working to communicate with web technology. Principle sets up a project website for each stakeholder so that they can view the latest information about their project. The website typically incorporates the on-site live-streaming camera so that they can see exactly what is going on at their site. It also shows the latest plans for the project, which superintendents and project managers change and update on an almost-daily basis. This saves not only time, but also money and paper. Instead of printing documents and sending them in the mail or shipping them overnight, superintendents and stakeholders can talk about changes in real time over their website.
In the case that everyone on the team is in Principle's office, the company will soon be installing a TruTouch Newline XSeries, a 70' monitor that can display blueprints for the team to draw out their intentions for the space. The screen can also be set up for video conferences, which allow the team to share voice, video, data and annotations from the meeting. Users can take notes and share ideas by saving them to the screen and emailing them out to the team at the conclusion of each conference. The system includes two cameras for video conferencing and non-proprietary IdeaMax software.
Even drawing these plans is almost exclusively done on computers in today's construction market. Computer Aided Design (CAD) and Building Information Modeling (BIM) have become staples of design-build technology. These programs allow design-build professionals to "draw" their buildings in three dimensions on their computers, showing clients exactly how they will build and plan both the interior and the exterior of the building.
BIM also encourages prefabrication, or building pieces of the structure in a place other than the actual building site, then putting the pieces together on site in the precise way prescribed by the computer program. In the future, this process could be helped by robotics, 3D printing, and even drones designed to build parts of the building off site.
Precision is important when it comes to placing the building on its site as well. With the aid of Google Earth imaging, Principle's team can show its clients how the surrounding site will look once the building is constructed on it. With global imaging and GPS at the ready, Principle is able to place the building perfectly down to the inch so that the building owner will still have the right amount of outdoor space surrounding its building.
These technologies help Principle plan with its clients from the start of each project to the finish. With the ability to create more precisely designed buildings, the team at Principle is able to provide faster and more accurate estimates with BIM, CAD and Google Earth. With these systems creating more accurate models of buildings, estimates are often closer predictors of the final cost than they were several years ago.
So what's next for technology in the construction industry? Wearables will soon be helping workers improve safety on the jobsite. Tiny computers in workers' hardhats and vests will be able to detect and report an impact or fall, or alert superintendents if a worker is not wearing a hard hat in an area where they should be required. Smart vests can connect to computers to let supervisors monitor vitals, body temperature and repetitive motions that can lead to injuries with up-to-the-minute data.
From creating the most accurate design possible to communicating changes to the client to improving worker safety, technology is impacting every part of the construction industry. By keeping up with these technologies, construction companies can save time, money and labor hours, making their jobs both safer and more profitable.
http://www.rejournals.com/2016/04/11/column-technology-helps-construction-companies-build-better-business/