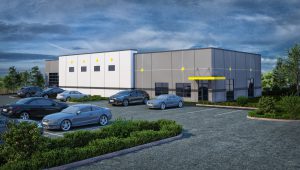 (ROSEMONT, Illinois)- James A. Brucato and Mark E. Augustyn, owners of Principle Construction Corp., are pleased to announce that their firm has started construction on a 7,000 square foot office building at 921 Tower Road in Mundelein, IL for Barreca Blacktop and Sealcoating. The company already has locations in McHenry County and Lake County and is expanding to this third location in the northwest suburbs.
Barreca Blacktop provides maintenance, repair and restoration services for asphalt surfaces in commercial and residential settings. The company's new office will also house five interior service bays. Situated on 3.34 acres, the site includes a rear storage yard and 32 parking stalls with the opportunity to build 28 more stalls in the future. The project is slated for completion in September 2017.
Principle's Mike Long is serving as the principal on the project while the project manager is Principle's Ken Lattanzi and the Superintendent is Matt Frane. Timothy Morgan is providing architectural services.