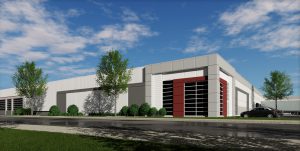 (ROSEMONT, Illinois)- James A. Brucato and Mark E. Augustyn, owners of Principle Construction Corp., are pleased to announce that the company has been selected to redevelop an existing facility for ML Realty Partners located at 2250 Lively Boulevard in Elk Grove Village, IL.
During construction, Principle will demolish the existing northern bays of the 108,315 SF building and reconstruct the remaining 85,682 SF facility to include a precast truck dock area along the north elevation and 10 new docks. The team will also build out a new 3,125 square foot office area, new MEP systems, new roof and construct a parking lot with 16 stalls for the office portion of the building and 42 stalls for the warehouse portion of the building. The project broke ground in April and is slated to be complete at the end of August.
Tim Geisler and John Benson of ML Realty Partners are providing leadership and overall guidance on the project. The relationship that Principle and ML Realty has developed over the years is one that defines teamwork.
"Interestingly this project has plenty of complexity. It has been a pleasure working with ML Realty and the design team to creatively resolve the design and coordination issues that were presented on this project."  says Jim Brucato, President of Principle Construction Corp.
Principle's James Brucato serves as the principal on the project along with Principle's Rick Grabowski who will serve as Sr. Project Manager. Principle's Mark Frane will be the project Superintendent. The project architect is Harris Architects.